Use It In a Place That You Want
Fast development in the technology has directed the business to online software and has closed the classical commercial software. In this way, you economize the time, the staff, the fuel, the expense and the profitability and the high quality has increased in the global business world. Our firm has analysed the needs in this field and has presented webticari application to the market. You can follow the actions at home, at work desktop in the car, laptop or mobile out of the office. Webticari's usage is easy, useful and secure; develops itself, modern and a dynamic software.
The internet is the indispensible part of the today's technology. And it will be the indispensable part of the software in the future. Webticari has incorporated all the advantages of the internet with a commercial software without waiting the future and has presented to you. It has integrated the internet substructure with Webticari substructure thoroughly, has programmed it fast and responsibly.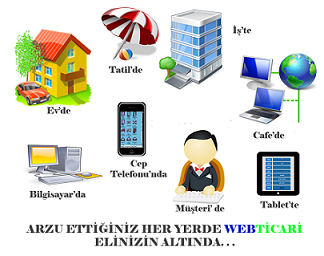 When you need very fast connections to use some software on the internet, a standard connection is enough for Webticari. You can manage your company online from your personal computer, laptop computer, mobile phone, portable terminal and connect to the system. So you will incorporate all your sections, manufactories, sale offices, head office, warehouses through the integration on the internet.
The consolidated will impact the reports instantly that will be taken from a sale office of any section. All company data will be gathered, you don't need to lose the time for the data security with all business unit security. Through Webticari, your all informations are with you. And whenever you are, at home, at office, at airline, with your customer and also with 3G technology you can access every information.
Take a first step into the change on the internet.